Sonoma Biochar Initiative will host the 2012 US Biochar Conference
Post date:
Tuesday, October 25, 2011 - 6:10pm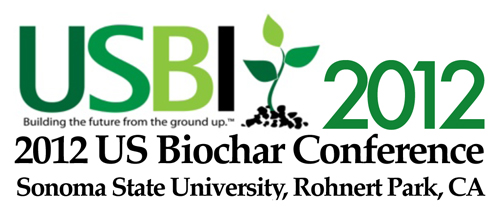 TheSonoma Biochar Initiative Sonoma Biochar Initiative (SBI) in partnership with the Sonoma Ecology Center have been selected by United States Biochar Initiative (USBI) to host the
2012 US Biochar Conference
in Sonoma County
from July 29 to August 1, 2012.
USBI director Gloria Flora notified the Sonoma organization of the Advisory Board selection. Sonoma was selected for its practical, enterprising focus on Biochar opportunities, the abundance of agricultural partners in the region and the County's national standing as a leader in addressing climate change.
2012 US Biochar Conference is designed to advance our understanding of the economic, science and policy issues related to biochar as both an amendment for soils as well as agent for carbon sequestration. California's reputation for progressive policy and venture capital resources provide an excellent setting for showcasing new innovative technologies like biochar.
The 2012 conference will bring together growers, entrepreneurs, investors, scientists, policymakers, policy analysts, engineers, producers, users, and students on the topic of biochar. SBI will publish the schedule and program in Spring 2012. SBI expects the Conference to attract as many as 400 attendees from North America and International destinations.
Thank you for attending the 2012 US Biochar Conference. We're glad you joined us and hope you enjoyed the event.
Thank you to the Sonoma Biochar Initiative (conference organizers) for being a great host organization, providing a varied and valuable conference program, and for doing their part to advance the science and industry of biochar.
You'll find the 2012 US Biochar Conference plenary session videos on the Sonoma Biochar Initiative website. Feel free to share this link with all your contacts - http://sonomabiocharinitiative.org. Additionally, over 600 photographs from the conference are available here (link to photos).
We really enjoyed hosting the 2012 US Biochar Conference and hope to see you all next year at the North American Biochar Symposium - October 13-16, 2013 - http://pvbiochar.org. Contact: Karen Ribeiro, karen@pvbiochar.org for more information.
Thank you for joining us in California.
Organically,
Oren Wool
2012 US Biochar Conference
The Sonoma Biochar Initiative (SBI) is a nonprofit organization dedicated to promoting biochar education, production, and use. SBI is sponsored by the Sonoma Ecology Center, a Sonoma Valley nonprofit working collaboratively to sustain and enhance ecological health.latest Nike release | Nike - Sportswear - Nike Tracksuits, Jackets & Trainers