Root Zone Biochar Application with Grapevines
Post date:
Saturday, July 20, 2013 - 12:00am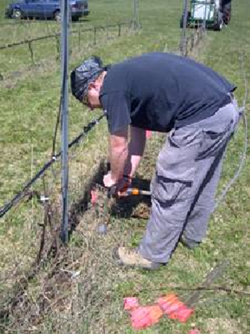 We tried several different methods, but ended-up having to develop our own equipment and techniques. A couple of these methods show promise for commercial-scale work, I believe. Basically our approach involves a few components:
tractor-powered (PTO) spray equipment with water tank, pressure adjustments
root-injection sonde (available commercially, but we ended-up making our own)
slurry tank with a Venturi pump, mixing equipment
various hoses and connections
a lot of trial and error…
A lot of the success of this type of method is related to the choice of biochar and the formulation of the slurry. We're continuing work this summer to try to improve these methods for larger scale commercial work, but are also evaluating, of course, whether the use of biochar applied in this manner will have any effect on the crop quantities or quality.
Barry Husk
President
BlueLeaf Inc. http://www.blue-leaf.ca
best Running shoes brand | GOLF NIKE SHOES